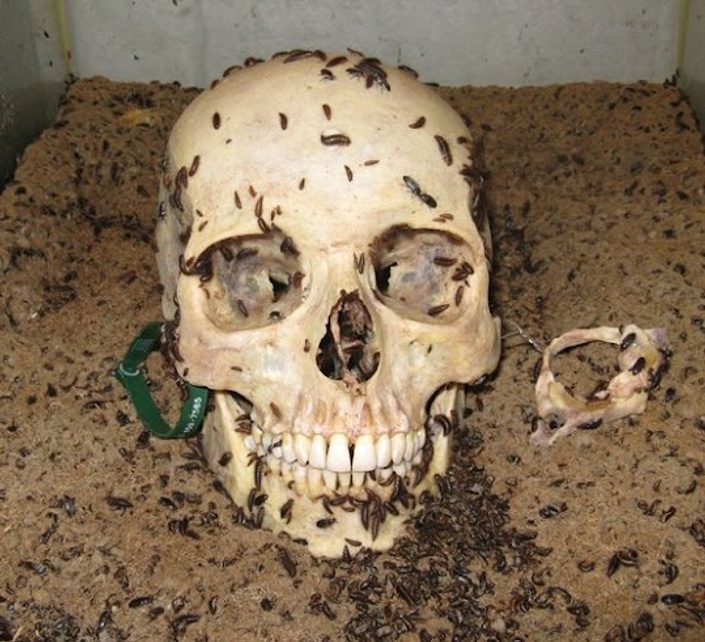 Introduction to Forensic Entomology: Insects and Crime Scene Investigations
2-week Course with On Demand Lectures
Enroll in Course
Crime scene evidence can include the collection and preservation of evidence from insect colonization found on victims and/or the scene itself. Any scene including this type of evidence requires special training in the collection and preservation of this evidence along with understanding how and why this type of evidence can assist in an investigation.
This online 2-week introductory course presents information on the role of arthropods in decomposition, the role of entomological evidence in criminal and civil investigations, and the investigative skills needed to successfully document entomological evidence.
The online course topics include:
Collecting and preserving entomological evidence

Collecting specimens from scene site and victims

Environmental factors affecting decomposition conditions by insects

Importance of insects in forensic investigations

Case studies involving entomological evidence
The course is open to forensic science students, criminal justice students, law enforcement personnel, medicolegal professionals, or persons with a strong interest in the topic.
Please note: the course includes images and live presentations of insects and other anthropods. Enrolled students should expect to view these images and examinations of scenes.
Your Instructor
Terri has been teaching forensic science and criminal justice courses for over 15 years. Her education and experience includes business management, science, law enforcement, and forensics. She has a MS in Forensic Science (emphasis in Investigations) and loves to teach and educate others in forensic science and criminal justice topics and techniques. She is the founder of Forensic Training Unlimited LLC (FTU), which is located in Southern California. FTU offers hands-on training, workshops, seminars, and online training courses.
She has several POST certificates, has trained with Los Angeles County Coroner, Orange County (CA) Sheriff's Department, and holds professional memberships in Southern California Association of Fingerprint Officers, International Association for Identification, Latino Peace Officers Association, and the California State Division of the International Association of Identification.
She has presented at the International Association for Identification, served as a guest lecturer in forensic and criminal justice topics, as an Adjunct Instructor at several colleges and universities.
Terri, who holds teaching credentials, is passionate about bringing students closer to their forensic career goals.
Stay Connected! Get Trained!

Course Curriculum
Welcome to The Course
Available in days
days after you enroll
Course Objectives & Course Outcomes
Available in days
days after you enroll
Course Information
Available in days
days after you enroll
Frequently Asked Questions
When does the course start and finish?
The course starts on Saturday, August 21, 2021. Course time will be announced to enrolled students.
How long do I have access to the course?
The course offers 2 payment registration options. Please see the course registration for specific details on course access.
I can make the live lectures. Can I still enroll?
The live lectures will be recorded allowing you to review the course at your convenience--no matter the time of the day. You can still learn about the topics and ask questions.
To keep current with the latest news in forensic science, job opportunities, and new course offerings, including our hands-on training modules at The Forensic Science Academy, please follow us on the following social media platforms:

Facebook Group Forensic Science Academy