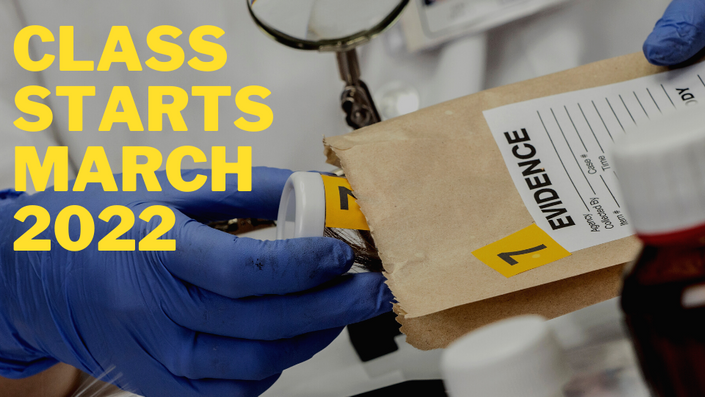 2022: Online Forensic Training: Documenting, Collecting, and Preserving Evidence the RIGHT WAY!
4-Week Instructor-Led Online Class Starts March 3, 2022
Watch Promo
Crime Scene Investigators are trained to know what types of evidence need to be collected from a scene but there is a series of steps on how to collect, process, and package a piece of evidence. The importance of knowing how the proper way to preserve and maintain the evidence collected at crime scenes is crucial.
This 4-week online course introduces key concepts of why and how to collect different types of evidence and provides an understanding of how and why each piece of evidence needs to be collected, processed, and stored in its own specific way.
ONLINE TRAINING STARTS
March 3, 2022 @ 5 pm PST
In this 4 week virtual training course:
Discover the proper way to process a specific type of evidence and the consequences of NOT following the proper process
Demonstrate the proper type of packaging for a specific type of evidence and the proper way to seal, label, document, and store specific type of evidence, and how doing so will save the evidence for further testing
Recognize what should/shouldn't be used as packaging material/containers
Recognize when paper vs. plastic should be used
How specific drugs should be collected and stored and the safety precautions CSIs take when collecting this type of evidence
How to collect biological evidence--blood, urine, etc--and how to properly label these evidence types.
The dos and donts of collecting weapons and the proper packaging for firearms, knives, and other sharp objects
The steps in collecting unknown powders and liquids
This interactive course is ideal for:
Still in college students with a primary career goal as a forensic professional
Students applying to forensic science related positions in need of hands-on training
Criminal justice students who want a better understanding of how forensic processing can affect the legalities of admissibility of evidence in court cases
Anyone wanting to know more about the process of evidence collection for their personal knowledge
The course is taught by Crime Scene Investigator from Los Angeles County with experience in property and evidence procedures and crime scene photography.
Registration includes:
Hands-on training activities
Certificate of Completion
PDF of presentation+supplemental material
Interactive learning objectives
Weekly Q&A Sessions
Live lectures (replay available)
Case studies
Only 25 students will be allowed to register for this online course.
*************************************************************************************************************************