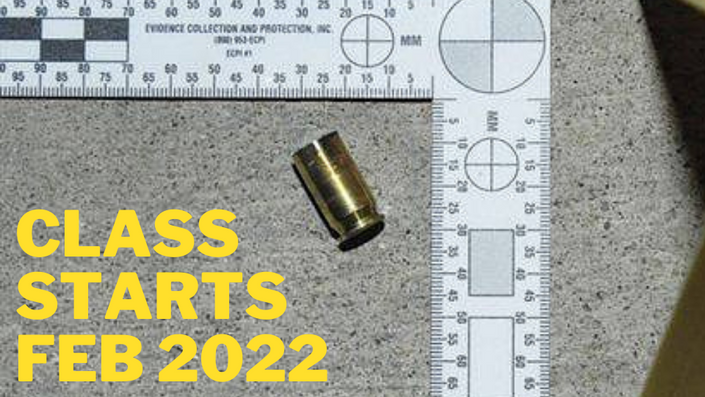 2022 Online Forensic Training: ABCs of Ballistics: Ammo, Bullets, and Casings--An Introductory Course
4-Week Instructor-Led Online Class Starts Saturday February 2, 2022
Watch Promo
Enroll in Course
Learn the ABCs of ballistics! This online forensic training course introduces the principles of firearms and ballistics!
About this Event
Bullets are as unique as fingerprints. Each bullet, once fired, has characteristic marks (striations) that can be linked back to the gun to which it was fired from. This interactive workshop will provide the basics of ballistics--ammunition, bullets, and casings--and the case studies presented will show the relationship between projectiles and forensic science.
The workshop is being presented by Forensic Training Unlimited, a premier source of online training for forensic students and forensic professionals.
The course is ideal for any student looking for hands-on training from a forensic expert, networking opportunities with other forensic students and forensic professionals, preparing for a forensic career or law enforcement career, or is looking for professional proof (certificate of completion) to show when applying to forensic positions.
This is an introductory course. Advanced learning topics will be covered in the Advanced Firearms course scheduled to be offered in April 2021.
Why take this course?
Taught by a Forensic Expert with over 20 years of investigative experience and a Criminalistics professor.
Relevant hands-on training providing students the skills needed to apply to forensic positions
Over 10 specialized topics covered in this online course.
What course includes?
Participants will receive certificate of completion upon successful course completion
Training worksheets will be provided for each student. These sheets can be used as a study guide for other related courses
PowerPoint presentation will be provided for review. Each student will receive a copy of the PowerPoint presentation (pdf)
Case studies, including scene photos--covering wounds from projectiles--will be presented
24 hours of training includes online lectures (replays available), course assignments, training assessments, and online training activities.
Topics Covered:
ammunition basics

types of ballistic evidence

bullet hole identification

evidence handling procedure

caliber identification

bullet comparison and identification

gunshot residue and distance determination

firearm mechanism

types of firearms

crime scenes involving firearms

wounds due to firearms
The online course is limited to 20 students so register early! If you're unable to attend the live lectures, replays of the lectures will be available.
Live lecture will be held on Zoom. Registered participants will receive Zoom invite.
Your Instructor
Terri has been teaching forensic science and criminal justice courses for over 15 years. Her education and experience includes business management, science, law enforcement, and forensics. She has a MS in Forensic Science (emphasis in Investigations) and loves to teach and educate others in forensic science and criminal justice topics and techniques. She is the founder of Forensic Training Unlimited LLC (FTU), which is located in Southern California. FTU offers hands-on training, workshops, seminars, and online training courses.
She has several POST certificates, has trained with Los Angeles County Coroner, Orange County (CA) Sheriff's Department, and holds professional memberships in Southern California Association of Fingerprint Officers, International Association for Identification, Latino Peace Officers Association, and the California State Division of the International Association of Identification.
She has presented at the International Association for Identification, served as a guest lecturer in forensic and criminal justice topics, as an Adjunct Instructor at several colleges and universities.
Terri, who holds teaching credentials, is passionate about bringing students closer to their forensic career goals.
Stay Connected! Get Trained!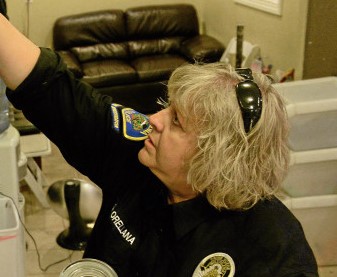 Sheri Orellana is a Crime Scene Investigator who recently retired after 27 years working for two Police Departments in Southern California. She has hundreds of hours of formal classroom education in the areas of Basic and Advanced Crime Scene Investigation, Forensic Photography, Firearms, Blood Stains and Finger and Palm print Classification and Comparisons as well as thousands of hours of on the job training.
During her career she handled and assisted with investigating several hundred homicides, as well as numerous other person and property crimes.
Sheri has served on Southern California Association of Fingerprint Officers Board of Directors for nine years since 2011 and is currently the Treasurer and Parliamentarian for the Association. During her career she was a member of the Los Angeles County Forensic Supervisory Group, The International Association for Identification and the California State Division of the International Association for Identification.
She has been a forensic instructor since 2001 and specializes in Crime Scene Investigation, Forensics Photography, Bullet Trajectory, Blood Stains and Courtroom Testimony Techniques. She serves as a mentor for forensic students and criminal justice students.
Course Curriculum
Welcome to the Online Course
Available in days
days after you enroll
Frequently Asked Questions
When does the course start and finish?
The course and live lectures begin on Saturday, February 6, 2021, at 10 am PST. The official end of the course is March 27, 2021 (when all course assignments are due).
How long do I have access to the course?
You will have 3 months* after the start of the course. (with premium registration)
What if I can't attend the live lectures?
Each of the live lectures will be recorded. The replay will be uploaded into the course within 24 hours of the live lectures ending.
How many times does the class meet online?
The course is 3 weeks long. Live lectures are on: February 6 February 13 February 20