This week's blog post is by Kelly Arana, who is one of my students in the Criminalistics course I teach. I wanted to showcase her research paper. Enjoy! Thanks~Terri
Angela Gallop: A Modern Day Forensic Scientist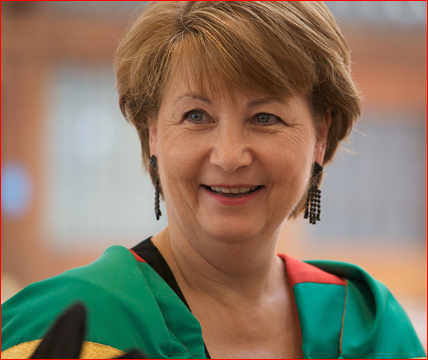 Angela Gallop is the true definition of what it means to be a forensic scientist. Gallop is originally from Oxford, England. She initially had a Botany interest and was pursuing it at the University of Seinfeld. Her hopes were to receive a Philosophy Doctorate in BioChemistry and was part of a project at Isle of Wight. The project consisted of sea slugs research. It didn't take long for her to realize this was not what she really desired. She wished to apply her scientific knowledge into the real world, and apply it onto a topic with a vast audience/various members. An advertisement that showed a job offering in Harrogate caught her attention. In 1974, she joined the Home Office of the Forensic Science Service. Gallop's first ever crime scene was a Yorkshire Ripper's crime scene. She has been in the forensic field for forty five years ever since. Now known, as one of the most respected and sought out forensic scientists in the United Kingdom.
Around 1986, she created "Forensic Access," a private company with the goal of providing defendants with the same levels of expertise in the justice system as the prosecutors. She noticed that prosecutors often had priority when it came to access to documents and other important information. Therefore, she was inspired to create this company. It insures that it will deliver high-quality forensic science services with the most recognized in the field working in on it. Employees need to meet a strict criteria of four checkpoints. With over twenty-four crime types and forty-six evidence types, along with customized forensic testing kits, Forensic Access assures it can cover any existing case. This company has assisted courtrooms be presented with a balanced and fair amount of evidence from both sides.
Other than Forensic Access, she also founded and became executive chief of Axiom International, with the intention of creating connections between British forensic expertise with law enforcement agencies. Her resume of accomplishments included Former President of the Forensic Science Society, visiting professor at Northumbria University, chaired on the Independent Police Commission by Lord John Stevens, and a Registration of Forensic Practitioners Governing Council founder. High involvement within this career is demonstrated through her participation as an educational speaker among various universities, press, television, and radio. Not to mention, the exclusive invitations she has received to government committees, including the Royal Commission on Criminal Justice's private deliberations.
In 1997, Gallop expanded by forming the "Forensic Alliance." Its purpose is to assist law enforcement (investigators;courts) in retaining such forensic services both, in the UK and internationally. It is the first independent agency of its kind and the first and only independent forensic agency within the European Network of Forensic Science Institute (ENFSI). This agency was later merged with the Laboratory of the Government Chemist's (LGC) Forensic Division. Gallop was the director of LGC's Science & Innovation section and in addition, earned a seat in this company's main board. Forensic Alliance has solved ground-breaking cases such as Rachel Nickell, the Stephen Lawrence mystery and the Coastal Path Murders.
An example of this contribution used in forensic science was the case of twenty-year old Lynette White, a sex worker who was stabbed more than fifty times. There were three main suspects. Although, the case would remain undisturbed for the following two years to come. It was the Forensic Alliance agency, her team that decided there was an injustice playing a role. They decided to re-examine the scene and had successfully obtained useful evidence. She reconstructed the crime scene and after four years of investigation, Jeffrey Gafoor was sentenced to life in prison in 2003 for the murder of Lynette White. Her successful investigation hit deadlines as this was one of the first times a murderer had been convicted and identified using familial search. Another scenario where her agency came to the rescue was the Coastal Path Murders case in Pembrokeshire. This case took four thousand statements with an estimated of 150 officers involved. Gallop claims there was a "behind the scenes battle with law enforcement." Law enforcement had them tied to concentrate their evidence only on DNA. Though, that was nowhere near the team's satisfaction. They went on to collect texture fibers from clothes and found those who were responsible for the crime.
Angela Gallop, now at the age of 69, wrote and published the book named "When the Dogs Don't Bark: A Forensic Scientist's Search for the Truth," on February 21st of this year. It is through this book, where the audience grasps a piece of her life and is given the chance to read her memoir. She claims that even though it seems as though she has seen it all, she has yet to learn much about the world of forensics. She just announced this week that she will take charge of the Madeleine McCann case. On Thursday, May 3rd 2007, three year old Maddie went missing in a hotel apartment while on vacation in Praia da Luz, Portugal. It is one of the most puzzling missing child cases existing today. She admits that this case will be "extraordinarily difficult because it's in a different country and you don't know what's happened to the exhibits.'" Though, she states that she has worked in countless cases where ends just seemed "hopeless," and is hoping this case will just be another one of those. She said: 'I'm not too daunted by anything these days. Every contact leaves a trace, it's just finding it." Such is to say, the Locard Exchange Principle. Gallop ends her points by stating, "We must not think of science as gospel, that's where we can often make terrible mistakes." As said before, Gallop is what the words determination and passion is meant to be. As time passes by, her hunger to receive knowledge and seek further answers has just grown more.