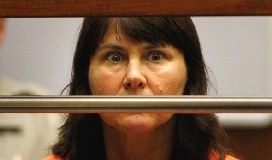 Stephanie Lazarus.

I stumbled across a podcast (in one of my previous blog posts I mentioned how I love listening to podcasts) that dissects and reviews various cases. Sprinkled with audio and commentary, I immediately noticed the latest podcast's episode featuring Sherri Rasmussen murder by ex-LAPD officer Stephanie Lazarus.
My fascination with this case started when I first read about it in 2009. It was one of those cases that made me jump for joy because, as a scientist, the power of DNA was once again brought into focus of how it can help exonerate or convict someone.
But this case was different because of the alleged suspect was an LAPD officer.
On February 24, 1986, John Ruetten came home from work to find his newlywed wife on their living room floor, dead from 3 bullet wounds to the chest. Investigators concluded it was a burglary gone wrong, but the case went unsolved for decades. 23 years later, DNA testing that hadn't been available before was conducted and who the new evidence pointed to was shocking.
In Part 1, you'll hear the details of the crime, how the investigation progressed over the years, and audio from a very interesting interrogation.
(http://courtjunkie.com/ep-8-part-1-murder-sherri-r...)
Download the podcast. Listen to the case and share your thoughts. Part 2 can be found on iTunes or on CourtJunkie.com
More information about the case can be read here.