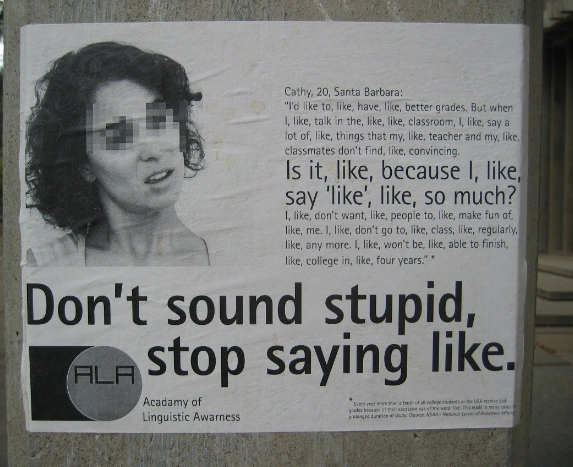 Want To Sound More Professional?
CUT THE LIKES OUT!
I was listening to a podcast a few days ago. I really like podcasts...so many things to learn from so many different people, people with different insights and opinions. Yes, I like podcasts. So it was by chance I stumbled upon a podcast by two very well established bloggers. I subscribed to the feed and was so eager to listen to the first episode of the series.
UGH!
I couldn't do it!! It was painful. Too painful to finish!
WHY?
Not even 20 minutes into the podcast and I counted 50 'likes' had been spoken. Gone from my ears were the suggestions from these two podcasters. Heck, I couldn't even hear past the many "likes" that were being racked up!
UGH!
I'm sure the podcast series has many great bits of information but I simply just couldn't hear any of it!
Then I started thinking...these two have lost their expertise, their professional proof. Why? Because their use of 'like' is making them sound stupid--(they are not stupid or uneducated)--but how they speak makes them sound unprofessional.
So, what does this have to do with your forensic career?
Imagine yourself testifying in a court. Imagine yourself in front of an oral interview panel. Imagine yourself sounding less like an professional and more like a...a person who says 'like' too much!
Maybe it's my age or maybe I'm just hyper-sensitive to the over use of 'like". Either way, I do know if you're caught in the 'web of like' there is hope for you.
Read some of the many ways to break the 'like' habit and sound more professional.
Your forensic career will thank you.
5 Steps to Cut "Like" Out of Your Life