Continuing with the "Let's chat about it" series….
Let's chat about online or computer programs agencies use to create crime scene sketches. First, let me review the importance of crime scene sketches. As I wrote in previous posts (July 2021 and July 2017), crime scene sketches are used to support scene photographs in documenting a scene. Since sketches and photographs complement each other, it is wise for the CSI to be consistent in how the drawing is created. Photos and sketches record the relationship of evidence found (or missing) at the scene. Sketches depict the layout of the scene location and show the distances between the evidence documented to other evidence items.
So, what online or computer programs do agencies use to create crime scene sketches? Since each agency is different, different programs exist to meet specific agency needs.
Here's a list of programs that can be used:
SmartDraw https://www.smartdraw.com/?id=104640&gclid=Cj0KCQjw_8mHBhClARIsABfFgpi-yrAo3M0_7TYVaXus1LjhgsLPXn4vtqVaB44L16RseitdXmlr7V8aAlW7EALw_wcB). We recommend this program to our students in The Forensic Science Academy. Use the free trial to become familiar with the program.
Farozone (Crimezone) https://www.faro.com/en/Products/Software/Faro-Zone-3D). I used this program several years ago during my training. I liked it!
Scene PD (http://www.trancite.com/v2/pages/scene-pd/landing-page.html)
PowerPoint (yes, PowerPoint). Use the shapes option under the insert tab and use lines to draw diagrams.
SketchUp (https://www.sketchup.com/plans-and-pricing?gclid=Cj0KCQjw_8mHBhClARIsABfFgpgO-0Ws0PgJbluN2cE70Gl4m7yiJ2c0XXiqPsuIttkT-gl1m4TaIbQaAl2-EALw_wcB#for-professional)
CadPro (https://www.cadpro.com/crime-scene-layout-drawings/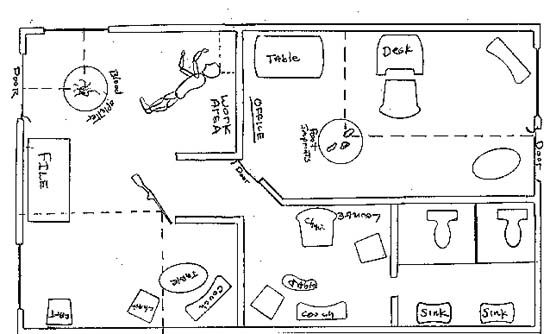 Computer programs have the ability to draw crime scenes to scale with 3-D capabilities which are especially useful to depict trajectories in shooting scenes.
Below are other articles related to crime scene documentation:
https://www.crime-scene-investigator.net/evidenc2....
https://www.evidencemagazine.com/index.php?option=...
Want to get started? If you're a student, use PowerPoint to familiarize yourself with the process. Need a sketch? Create a sketch of your bedroom or office. Make it simple then as you become more proficient, start adding other elements into the sketch and your diagram.
Thanks!
~Terri