This week's post is an interview I had with one of my closest friends and professional colleagues, Sheri Orellana, (retired) Crime Scene Investigator from Pomona Police Department, Pomona, CA, who has taught in The Forensic Science Academy since 2003.
Sheri touches upon the subject of training and how important training is to your career and ultimately to your success during a forensic job interview.
Here's the interview:
Terri: Hi, it's Terri Armenta from Forensic Training Unlimited as well as our flagship, the Forensic Science Academy, where we offer over 200 hours of hands-on training in Southern California. It is my privilege and honor to introduce my close friend, Sheri Orellana. She is our Master Instructor here at The Academy and she pretty much sets the tone for the curriculum and how students need to be trained.

So Sheri, thank you. I know we're at our very last day of training module, Advanced Crime Scene Investigations, and I know that you've been training with us for many, many moons, right? Just seems like many, many years. I know that you've seen a lot of students come but I'd like to ask about your background. How long were you a crime scene investigator?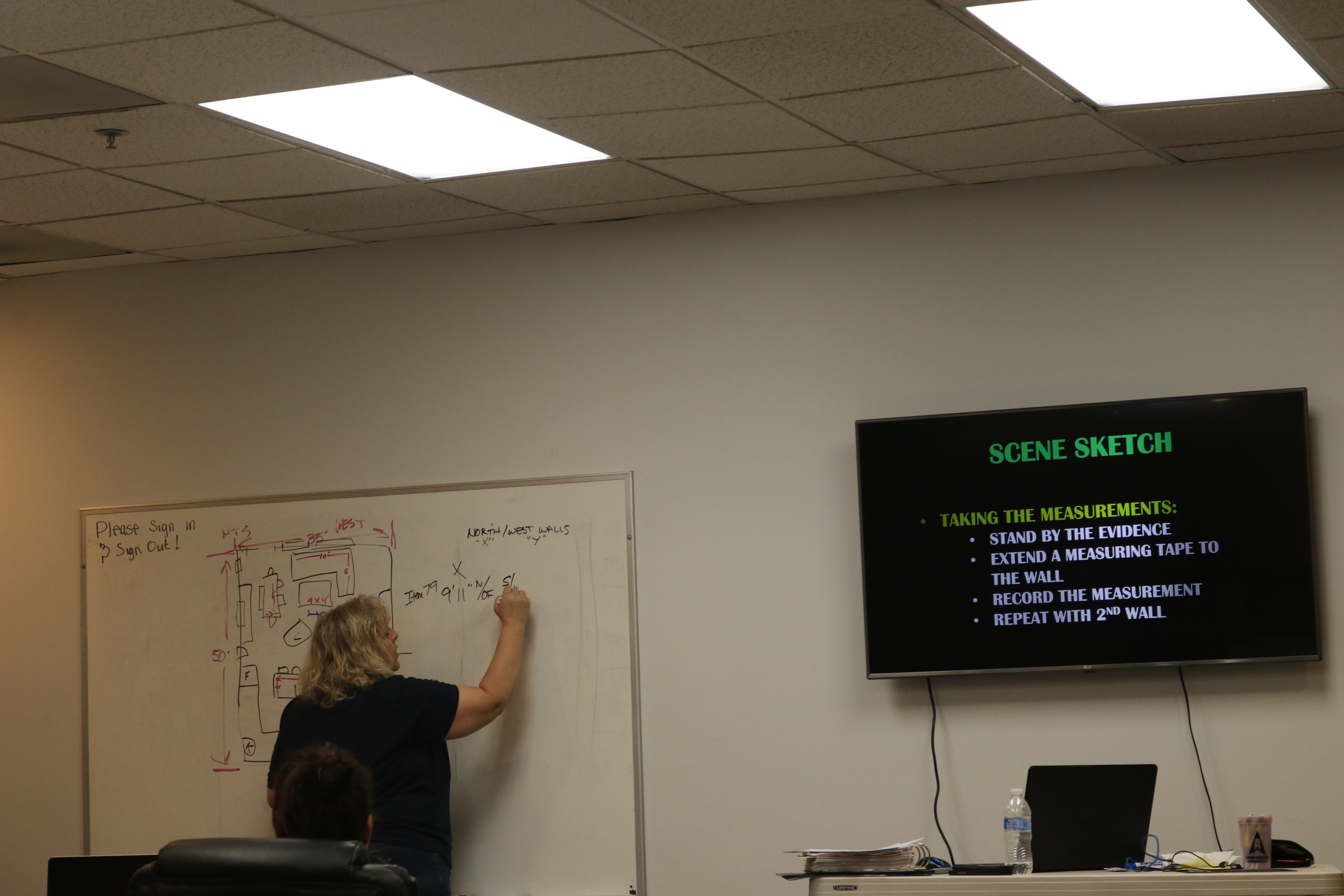 Sheri Orellana lecturing about Scene Sketching, 2018

Sheri: Terri, thank you. I was a crime scene investigator for 18 years and 27 years in law enforcement.

Terri: What is the number one tip that you would give to students reading the blog post? I know that you go over a lot of tips here in the Forensic Science Academy but not everybody can attend the academy, so what is your number one student tip that you would highly recommend?

Sheri: Well, obviously, it's got to be training. Any kind of training whether it's with Forensic Training Unlimited which offer our online classes, The Forensic Science Academy, or the other programs we offer, such as our workshops or seminars. We offer a diverse variety of the training, but whatever you decide, the bottom line is you have to get constant training. Techniques are changing all the time, you got to keep up with it because when that process change you need to know about it and you need to employ it in what you're doing in your job.

Terri: And would you say that training is probably the number one thing that agencies are looking for in candidates in entry-level positions, and how would students get training if they can't come to the program?

Sheri: Absolutely, training is number one. Students really have to keep up on the changes in this field. Processes change, technology changes, and you have to be able to change with it. So you can't do that if you don't go to training.

Terri: So I know that number one thing is obviously training, how about some organizations? I know that you've been past president of one of our organizations here in Southern California. Do you see the trend of student memberships as more and more students are trying to get into the field that more agencies or organizations are creating a student-based type membership?

Sheri: Yes. I am the past President of the Southern California Association of Fingerprint Officers (SCAFO). That's been a longstanding forensic organization which I belonged since about 2006. I really like that organization because it does stress the training in the world of forensics. They like to emphasize fingerprints, but there's a wide variety of jobs out in the forensic world and so we do like to highlight those special fields too. But, yes, there are a lot of organizations and I would definitely recommend it. There are some that have student memberships and there are some such as SCAFO which we're working on a program to provide an internship for a certain amount. So that takes a little while to come up with, but it's important. And we understand that we have to give the students an opportunity to work in a real life situation so that they can qualify for the jobs that are out there.

Terri: All right, Sheri, thanks a bunch, I know that you've got to get back to the students out there because they're wrapping up their mock crime scenes. Thank you so much.
Sheri: Thanks, Terri.
To see Sheri in "teaching action", please visit here.
If you're interested in attending the Forensic Science Academy, our hands-on training program, please visit forensicscienceacademy.org for more information or send me an email at [email protected]